A guest post on Kindness by Beth Bullington
. . .
I like fruit. There are some fruits that I enjoy more than others. Strawberries are always tasty. Strawberries are easy to eat just rinse and pop in your mouth. I have to be in the mood for oranges. Oranges are a bit more work to eat. You have to peel it, then deal with the seeds. Are you that way with the Fruit of the Spirit? You pick and choose which ones you like and will focus on. Do you pick kindness? What do you know about the Fruit of the Spirit – Kindness?
As we walk by the Spirit, we should be bearing the fruit of kindness in our lives.
Kindness Defined
Kindness has a broad meaning. It has elements of love, gentleness, patience, goodness, grace, mercy, compassion, and tenderness. Kindness overlaps with so many other qualities. What is kindness? The Greek word used in Galatians 5:22 is the word, chrestotes which means fit, fit for use, virtuous, good. Oxford Dictionary defines kindness as "The quality of being friendly, generous, and considerate." Kindness is when our words and actions are fit for use, virtuous, and good for those around us.

Kindness Reflects God
As with all the Fruit of the Spirit, kindness is an attribute of God. We see God's kindness in the ways that he deals with people.
Think about how God treated Cain. There was punishment for killing but also kindness in putting a mark on him that would prevent him from being killed.
God was kind time and time again with the Israelites in the wilderness. One of those times was providing quail when they wanted meat.
God is kind to the ungrateful and the evil. (Luke 6:35). God's kindness is not just for those who are his people.
The ultimate demonstration of God's kindness is seen in salvation. "so that in the coming ages he might show the immeasurable riches of his grace in kindness toward us in Christ Jesus." Ephesians 2:7 (ESV) Consider how many of the words that we use to define kindness are seen in sending Christ to die on the cross.
Do you see God's deep kindness for mankind? God's kindness should move us to kindness to those around us.
"Be kind to one another, tenderhearted, forgiving one another, as God in Christ forgave you." Ephesians 4:32 (ESV) We are commanded to be kind. Our kindness is displayed from a heart that is tender, walking by the Spirit.
Kindness through Walking by the Spirit
One of the fruits that I love is mango. I first ate mango in Asia. Mangos in Asia are grown there, the mangos in Asia have the right sweetness mixed with juice and the perfect ripeness so not too hard and not too mushy. Every now and then I see mango in the supermarket in England and will purchase it because of the memories that I have from those mangos in Asia. It is good but not the same delicious satisfying taste of the mangos from Asia.
In the same way, kindness that comes from walking by the Spirit is not the same as the kindness that comes from the world. The kindness that comes from the Spirit points people to God and to repentance. The kindness from the Spirit is looking at the other's needs and recognizing all that God has done for us.
The kindness cultivated through walking by the Spirit will display the following:
Our motives will be correct. Our kindness will be motivated because of what God has done for us. Our kindness will reflect God's kindness to us. We will have the correct motives in our words and actions.
Kindness displayed to those in need. We need to be listening to the Spirit and be ready and willing to show kindness. It might be the prompting to buy flowers for the person in the queue at the shop or coffee for the person behind you in line. We need to be listening and ready to show kindness.
Our kindness to others should point them to Christ. It is not about what we are doing but about Christ has done for us. Our kindness should point people to Jesus, displaying God's goodness into their lives. God sent his Son here to earth and as Jesus walked and taught he showed kindness. All of that pointed to God. Through our actions, we should be pointing people to God.
Walking by the Spirit will guide us in how to live a life filled with kindness.

How to Cultivate Kindness
The Fruit of the Spirit grows in us as we are living by the Spirit. We need to keep in step with the Spirit. One of the ways that this is done in our lives is to pray and seek God. Specifically, pray and ask God, "How can I show your kindness today?" That was the question that David asked in 2 Samuel 9:1. David's relationship with Mephibosheth is an example of genuine kindness. You can read more about that here.
Make this a part of your living. Have money set aside in your budget to buy flowers, coffee, give a meal to someone in need. Be the first to volunteer to make a meal or watch children for a friend in need. Plan your life so that you are being kind to others.
Kindness can be risky. We need to be willing and ready to take a risk. We might be misunderstood, judged but as we are walking with the Spirit, we will be obedient.

Kindness in Action
Kindness is demonstrated through actions and words. Here is just a short list of ways that kindness can be shown to those around you.
Meals for someone sick
Flowers for someone struggling
Child sitting for a young mom
A note to encourage someone
A text to say, "I am thinking of you"
A bag of essentials given to a homeless person
Help packing boxes for someone moving
Help someone clean their house
Chocolate, just because everyone can use some chocolate
Talk with the person standing alone at church
As you walk by the Spirit, cultivate kindness that points people to Jesus. As you understand God's kindness to each of us, our response will be to show kindness to those around us. Who can you show kindness to today? How can you do that?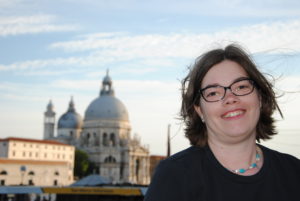 After living in Asia for a number of years, Beth currently lives in England where she is ministering with her husband to the Chinese in their city. She enjoys reading books, studying the Bible, along with coffee and dark chocolate. She is mum to two children an 18-year-old son and a 14-year-old daughter with Down Syndrome. Follow her blog, As He Leads is Joy, Guidance for Women who want to Grow. See what is happening in life on Instagram. Follow her on Pinterest for ideas to inspire you to grow.